SWISSCOAT offers the Myopia control and monitoring lenses that can slow down the rate of progression for your child. It is specially design for the active 8 to 16 years old children.
SWISSCOAT Myopia Control lens need to be prescribed by professional optometrists and to have always at least every 6 months check up and monitor by your optometrists in order to achieve the best result in the control of the shortsightedness. SWISSCOAT Myopia control and Monitoring lenses :
MYOLock 1088
A myopic child will easily become highly myopic. Eye disease will come more easily. To safeguard eyesight and eye health, SWISSCOAT strives to create a new solution of myopia control.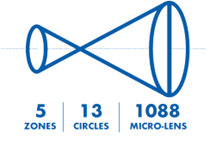 TAILORED FOR ALL MYOPIC ADOLESCENTS
The latest solution to control myopia progression.
CLEAR CORRECTION AT CENTER ZONE
According to Rx of adolescents, full distant correction through the central area and _eld of vision.
MYOPIA PREVENTION
5 vision zones including center, far-vision, near-vision, nasal and temporal. Through 1088 micro-lenses fixed in 13 circles, we create a myopic defocus condition for incident light ray peripheral to macula. This professional design can retard excessive abnormal growth of the eye and keep correct axial length of the eye. This design also keeps good control for myopia progression.
SAFE AND COMFORTABLE
Impact resistant materials give children better protection. MYOLock1088 is fabricated on PC materials. It is extremely tough, light and not easy to become yellowish within 3-5 years.
SPECIAL STRUCTURE OF THE HUMAN EYE
The eyeball is only an approximate sphere rather than a perfect sphere, the macular location of the retina belongs to the imaging area, the distance from the periphery of the retina to the anterior apex of the cornea varies gradually. Due to the spherical shape of the eye ball, when the human eye see objects, the objects on the visual axis focus precisely on the macula, but the objects at peripheral space focus at a point behind the retina, which is called hyperopic defocus.
ORIGINAL PARTITION MULTI_POINTS DEFOCUSING TECHNOLOGY_P.M.D.T_
MYOLock1088 combines the special structure of human eye to develop P.M.D.T , which employs the differentiated zoning layout and near-vision zone adjustment to delay the growth of axial length and avoid progression to high myopia.
SCENES CHANGE FREELY
P.M.D.T effectively helps user adapt to different scenes, either for indoors or outdoors, it adopts different defocus power on different zones on the lens, it is to ensure each individual zone is ideally used for particular distance or task.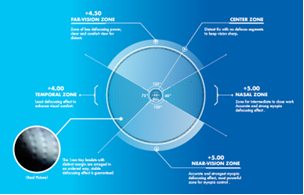 PARTITION MULTI-POINTS DEFOCUSING TECHNOLOGY(P.M.D.T)
Partition Multi-Points Defocusing Technology first creates partitioned defocusing of left and right lenses, so the defocusing area can generate different defocusing amount in different directions. The asymmetrical design of left and right eyes is ergonomic. Zoning correction according to the retina structure and general visual habit of the wearer to ensure the defocus lens adapt to various scenarios.
SWISSCOAT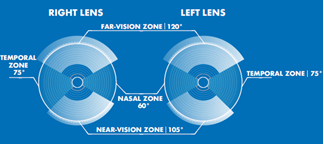 The eye ball can turn to any directions from its primary gaze which always coincide with the central clear zone and the desired defocusing power is different at different gaze.Myolock 5 zones design provide a dynamic setting to cope with the actual use of eyes in different scenarios.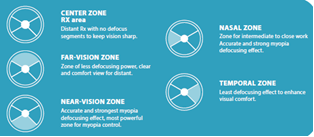 HOW DOES THE MYOLOCK1088 DEFOCUSING LENS BENEFIT FOR MYOPIA CONTROL
CLEAR VISION
COMMON DEFOCUSING LENS
Traditional peripheral defocusing lens reduces farsighted hyperopic defocus imaging around the retina by changing the peripheral power of lens to control the growth of eye ball axial length and myopia. While multi-point defocusing lens allow simultaneous multiple defocus and can make the peripheral imaging fall before the retina to form a myopic defocus zone with the micro convex lens array.
1. Based on the principle of retinal imaging, precise calculations are carried out to obtain the defocus area and defocus amount for partition differentiated management. Myolock team divides the defocus area into center zone, far-vision zone, near-vision zone, nasal zone and temporal zone, different zones have different defocusing power, which makes the defocus lens adapt to various scenarios.
2. Gap between each circle is reserved to avoid stray light Interfering.
3. Refracted ray goes through the central 8mm area with no interference to guarantee the clarity of image.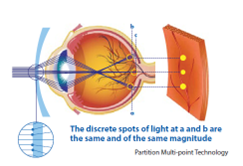 MYOLOCK1088
PARTITION DEFOCUSING MYOPIA LENS
MYOLock1088 lens adopts 5 partition differentiated design to guarantee clear and stable vision of center zone, 1088 micro convex lenses are arranged around the central zone to form other 4 zones as far-vision zone, near-vision zone, nasal zone and temporal zone. By using the converging power of micro-lenses, the rays focus before the retina to achieve a myopic defocusing effect, which helps delay the growth of the axial length to slow the progression of myopia. Partition defocus differentiated design meets the need of using of eyes in different scenes.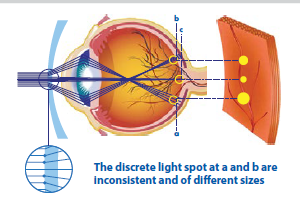 MYO ProTECH
Know More About Peripheral Defocus Lenses and know more about how can myopia be controlled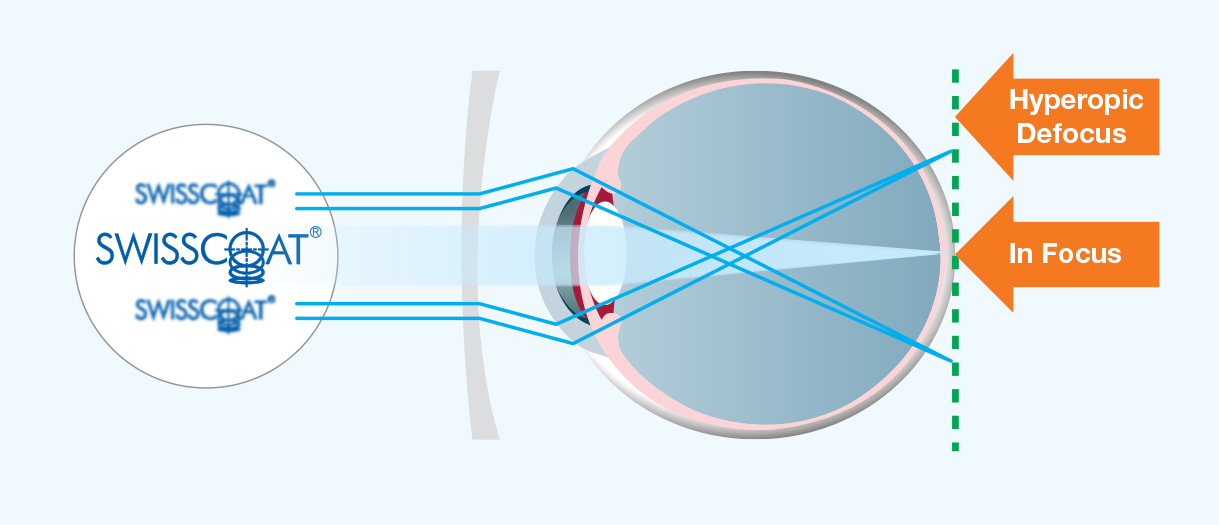 With standard single vison lenses, the central zone works fine and provides clear distant vision, but the lens periphery always projects the image behind the retina, resulting in hyperopic defocus.
From various clinical studies, it is believed that peripheral retinal hyperopic defocus would send signal to elongate the eye ball which may cause myopia progression.
Reference: Smith EL, Hung LF. The role of optical defocus in regulating refractive development in infant monkeys. Vision Res 1999;39:1415–35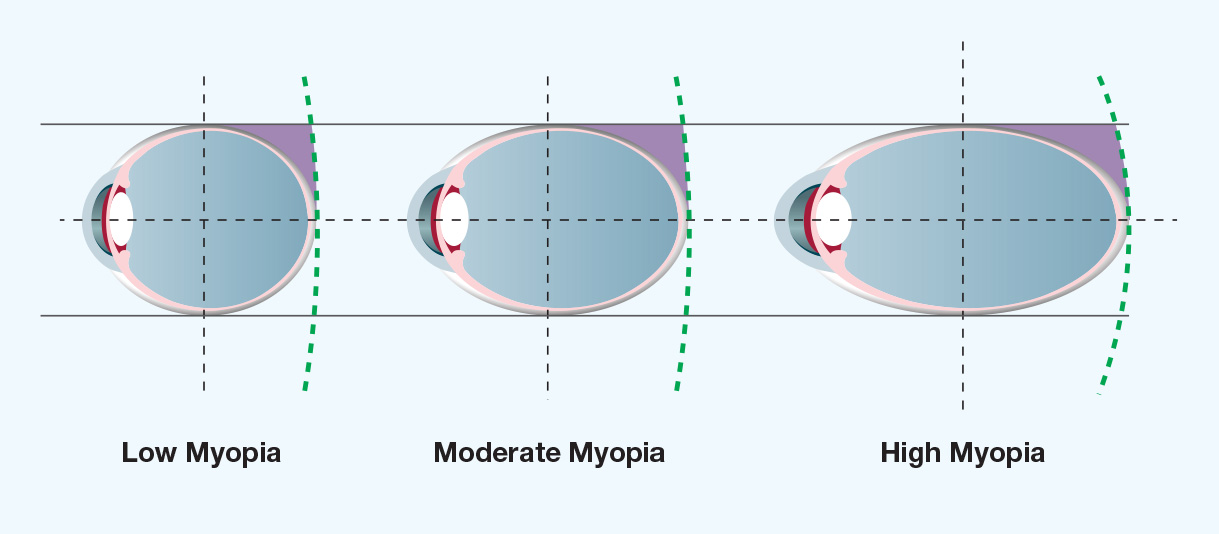 SWISSCOAT MYO ProTECH Myopia Monitoring lenses provide different correction curve to minimize the over correction.
In normal circumstance, when we are looking at objects, image would be focused on macular region (central retina), but when the light ray is from periphery, it passes through the lens periphery and projected onto peripheral retina, hyperopic defocus would be resulted.
Peripheral defocus lens (MYO ProTECH in this case), power decreases towards lens periphery from optical centre, which helps compensate for unwanted peripheral hyperopic defocus, and therefore may help retarding myopia progression theoretically.
SWISSCOAT Myopia Monitoring provide different correction curve
to minimize the over correction.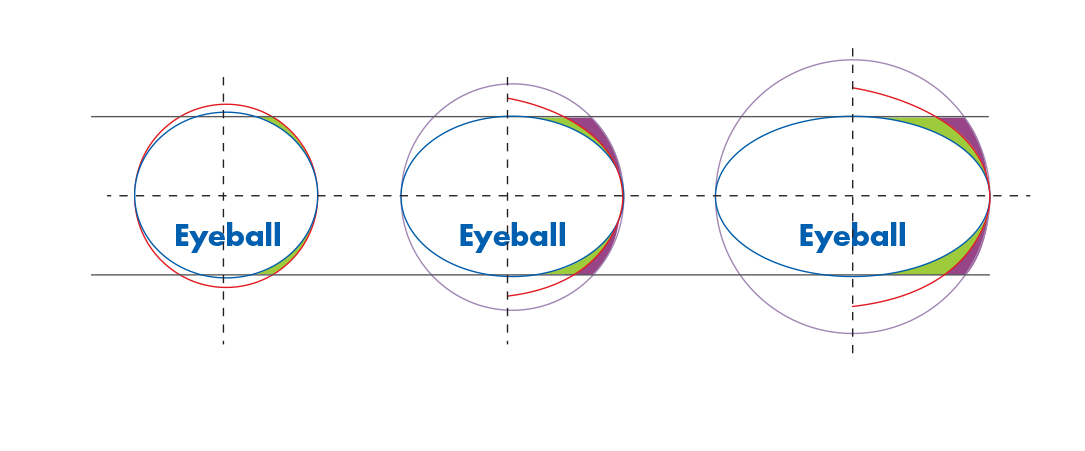 3mm distance zone for normal correction. Minus power decreasing to
the edge with different slope design.
Keep the distance power extend to the near vision zone for reading.


Hyperopic defocus, image focus behind retina
Myopic defocus image focus in the front of retina
When compare with standard single vision lens, peripheral defocus lens is more effective in retarding eye-ball elongation
Reference: Tse DY, To C-ho, To C. Graded competing regional myopic and hyperopic defocus produce summated emmetropization set points in chick. Invest Ophthalmol Vis Sci 2011;52:8056–62
MYO ProTECH Lens Design Principle
Aspherical
Clear Vision and stable optical zone in the center part (8-10mm)
Correcting defocus from optical center to periphery
Far Distance power is extended to reading zone at the lower part of the lens with inset
Defocus option available in 0.25 light , 0.50 standard , 0.75 max
0.75 is the strongest peripheral defocus power, maximum defocus could reach 1.75D ( 20mm away from optical zone )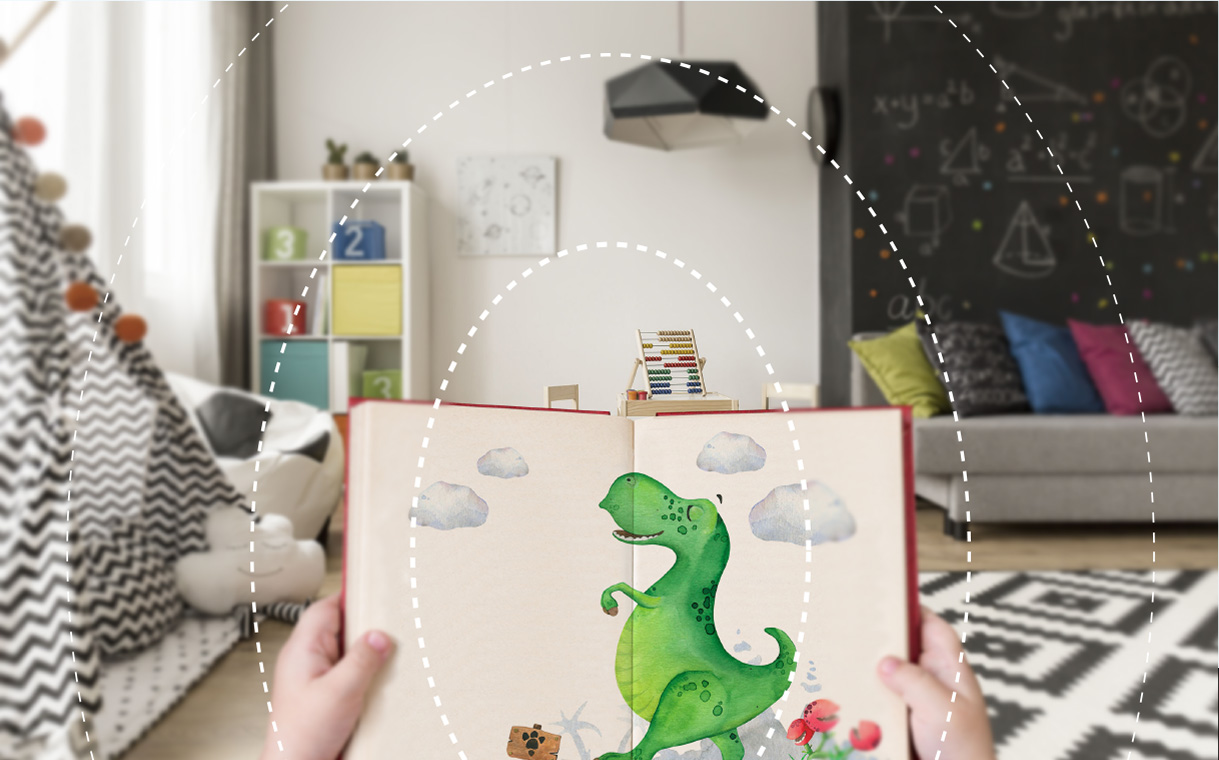 Each MYO and Kids ProTECH is infused with 5 major SWISSCOAT unique technologies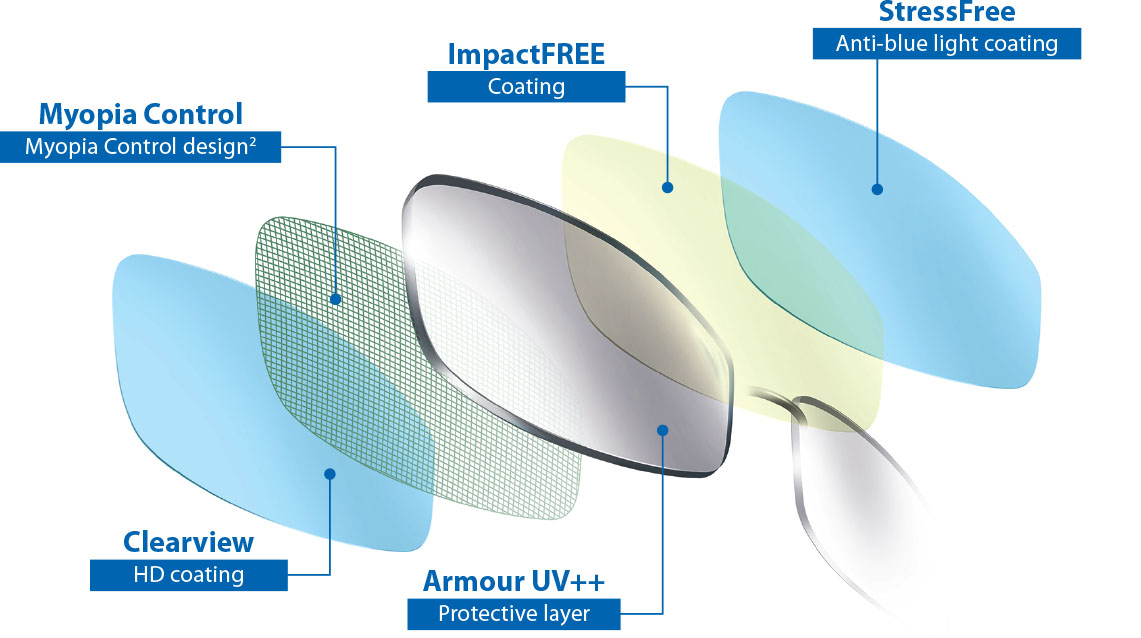 StressFree - the blue light protection proven by The Hong Kong Polytechnic University
Hong Kong is a city that is drenched in blue light. With flashy monitors everywhere and the ever increasing usage of electronics such as smartphones, their eyes are susceptible to more blue light than most other cities, and could drastically affect their eye health.
There is a way to stem the tide. With SWISSCOAT's StressFree coating features effective protection against high energy blue light. In a commissioned research done by The Hong Kong Polytechnic University1, it is proven that SWISSCOAT's StressFree coating offers the following benefits.
1. Effectively filters high energy blue light
2.Does not hinder color and contrast sensitivity
3.Does not affect night vision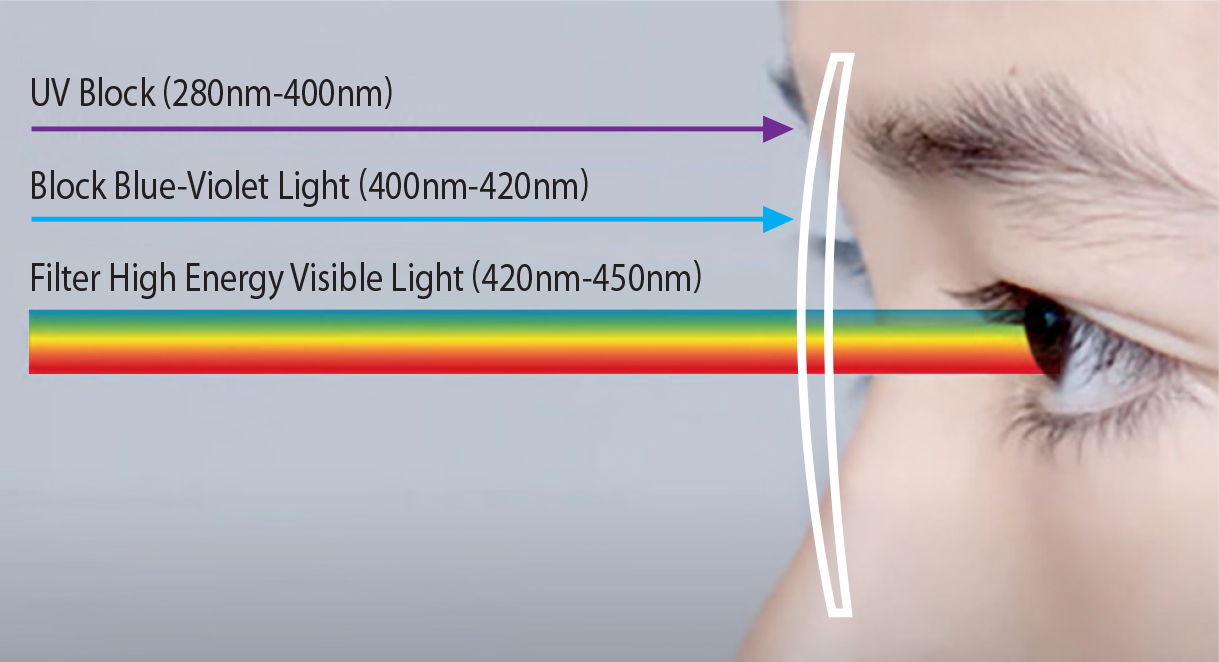 1. Reported by The Hong Kong Polytechnic University in the January 3rd 2017 publication from PLoS ONE.
2. Progression of Myopia in Hong Kong Chinese Schoolchildren Is Slowed by Wearing Progressive Lenses, Optom Vis Sci 1999;76:346-354
ADVANTAGES
• Relieve the lengthening of ocular axis • Correct Myopia • Comfortable • Suitable for Myopia wearer that from 6 to 16 years old
FITTING TIPS
• Same as progressive lens • Fitting height required • Mono PD required • Keep the pupil position at least 15mm to the rim of nasal • PD difference from frame PD to client PD within 5mm • Max power for 025 design: -2.00D (Over -2.00D) • Max power for 050 design: -3.00D (Over -2.50D) • Max power for 075 design: -4.00D (Over -3.00D)
Kids ProTECH
Children's eyes are bombarded with damaging light sources that surround us every day. From the sun's UV rays to the tiny text in textbooks, there is always an eye-damaging source nearby. SWISSCOAT combines years of experience and expertise to design the all-new Kids ProTECH, the children myopia control protective lenses that not only controls myopia progression in your child, but also protect their maturing eyes from UV, blue light, and impact resistant protective properties.
Each Kids ProTECH lens is infused with 5 major SWISSCOAT technologies:
StressFree Anti-blue light coating
Myopia Control design
Armour UV++ protective lens ( 100% UV protection )
5 times stronger Impact Resistant coating
Clearview HD coating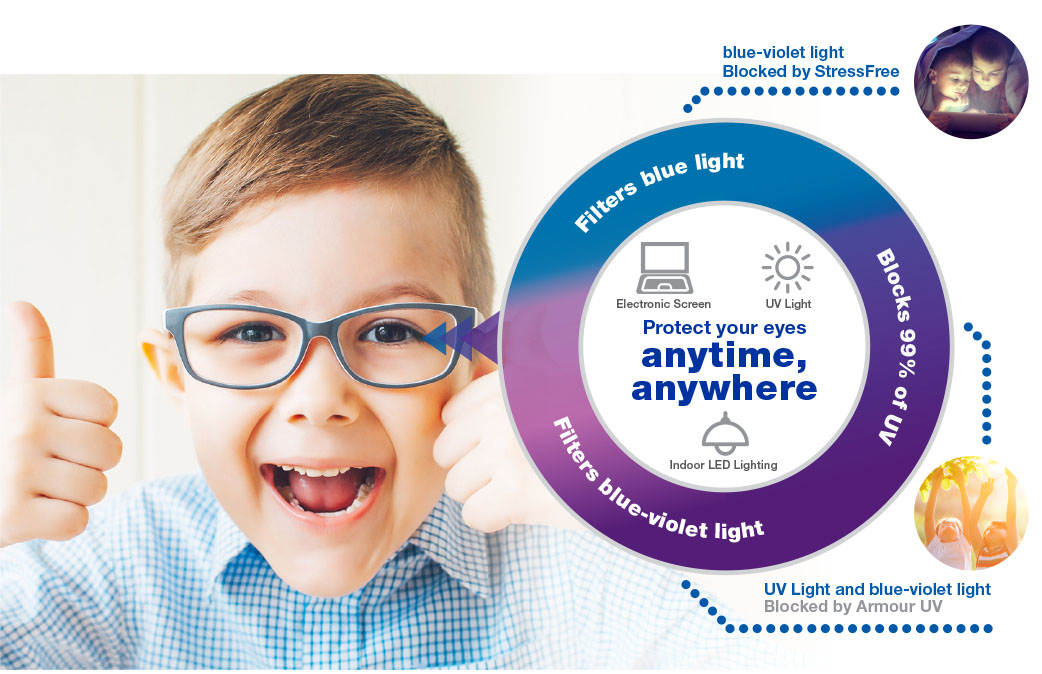 ADVANTAGES
• Relieve the lengthening of ocular axis • Correct Myopia • Comfortable • Suitable for Myopia wearer that from 6 to 16 years old
FITTING TIPS
• Same as progressive lens
---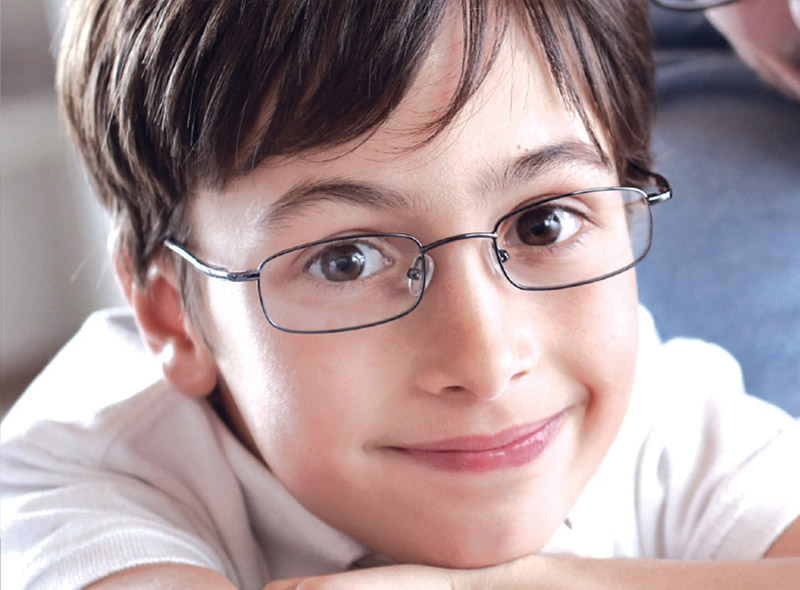 SWISSCOAT KidsPro has all these benefits to the children who choose to wear Myopia Control Lenses:
A shorter corridor
A wider reading zone
A wider far vision zone
A softer design compared to conventional progressive lens. Eye-point Technology ensures the softest lens design for every vision zone.
With KidsPro you can fit into any small children frame, the minimum fitting height is 17mm. The short corridor enables an easy transition between the far vision zone and the reading zone for the children. Aspheric in all its vision zones, KidsPro is the thinnest and lightest possible lens to wear.
---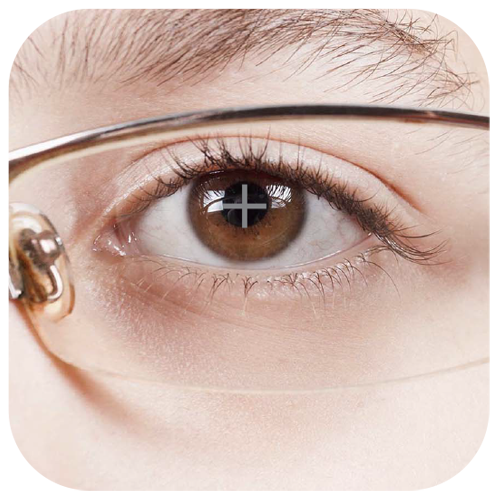 Pupil Distance Measurement
When using a pupilometer for measuring pupil distance, verify the result though a manual test
If a pupilometer is not available
Position yourself at the child's eye level
Make the pupil canter on the demo lens in the frame
Place the demo lens on the centration chart and read the monocular PD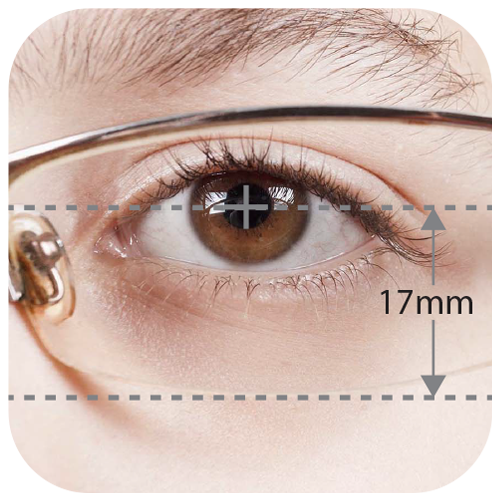 Fitting Height Measurement
Be aware that the fitting height can differ from eye to eye
Position yourself at the child's eye level
Make the pupil center on the demo lens in the frame
We recommend a minimum fitting height of 17mm
Cut-Out Confirmation
Position yourself at the child's eye level
Make the pupil center on the demo lens in the frame
We recommend a minimum fitting height of 17mm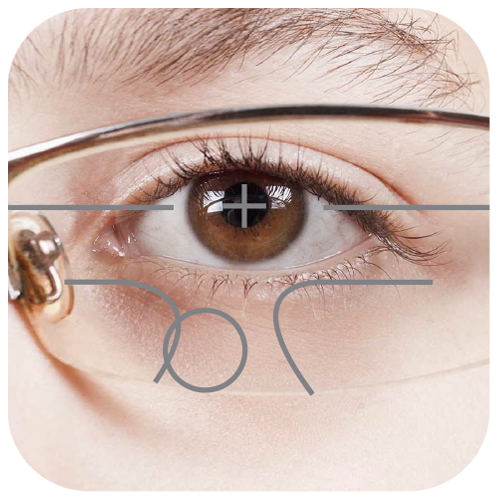 Lens Verification

If lenses are not marked, restore the marking with the KidsPro sticker marker
Fit the frame with the glossed lenses on the patient and verify that the fitting cross is aligned with the pupil center
ADVANTAGES
• Relieve the lengthening of ocular axis • Correct Myopia • Comfortable • Suitable for Myopia wearer that from 6 to 16 years old
FITTING TIPS
• Same as progressive lens
---