Heath Care Voucher
Swisscoat Vision Center is a registered healthcare service provider under the Health Care Voucher Scheme. Voucher recipients may use the Health Care Voucher for eye examinations and purchasing prescription eyewear if deemed necessary by an optometrist.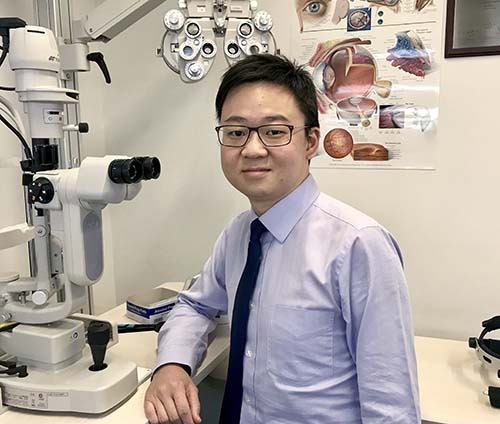 Comprehensive eye examination
Swisscoat Vision Center is dedicated to providing quality eye checkup services for seniors. Book an appointment with us today to get a comprehensive eye exam. Our eye examination is as comprehensive as it gets. It features early detection of common eye diseases including:
Glaucoma
Cataract
Age related macular degeneration
Diabetes Mellitus
Early detection means early management to preserve precious eyesight. Our comprehensive eye examination is suitable for kids over 2.5 years old to seniors. Our examinations also feature the following assessments.
Assessing patient history
Vision and refraction assessment
Visual function assessment
Ocular health assessment
Our optometrists will recommend more detailed examinations or referrals to follow up if necessary.
Our Corrective Lenses Improve Vision
A regular eye checkup serves more than merely detecting symptoms as it provides vital optical information so you can be prescribed the right corrective lenses to improve vision. Swisscoat Vision Center also carries many quality frames for elders. Optometrists will prescribe glasses for elders who are in need as well as those who need to renew the power for sight rectification, and related fee will also be deducted from customer's account. It is also recommended for the elderly to wear Swisscoat lenses with UV and high energy blue light blocking functions. Exposure to UV rays increases the risk of cataract and other eye disorders, and could cause accelerated ageing in the skin around the eyes. Signs of accelerated ageing in skin include dull skin, freckles, and wrinkly skin.
Vision Center Location
ADDRESS
G/F., Yuen Yick Building, 27-29 Wellington Street, Central, Hong Kong

ENQUIRY/APPOINTMENT
+852 3579 4763

FAX
+852 3579 4765

E-MAIL
visioncenter@swisscoat.com

OFFICE HOUR
Monday to Saturday (10:00-20:00)
Sunday and Public Holiday (11:00-18:00)
Eye Care Clinic Location
ADDRESS
23/F Somptueux Central, 52 Wellington Street, Central, Hong Kong

ENQUIRY/APPOINTMENT
+852 3971 0873

FAX
+852 3971 0875

E-MAIL
visioncenter@swisscoat.com

OFFICE HOUR
Monday to Friday (10:00-19:00)
Saturday (10:00-18:00)
Consultation by appointment on Sunday and Public Holiday